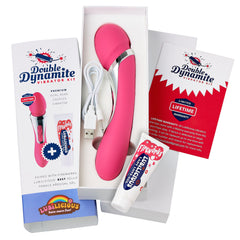 Using a vibrator regularly has been linked to better overall health.
Hear what Becca has to say about Double Dynamite Vibrator Kit
Vibrators are not just for solo play, you can use them during sex with a partner.
One-of-a-kind double-ended vibrator for unique fun! Explore both heads solo or try them out with a partner. It's the perfect G-spot vibrator for couples to play!
Most women need clitoral stimulation to achieve orgasm.
Which is why we included our arousal gel:
Fireworks
Apply a small amount to the clitoris for extra stimulation!
Peppermint enhances blood flow for increased sensations - and it tastes good!
Water-based - so it's safe with the Double Dynamite (and other silicone toys) and safe with condoms!
Masturbation can improve your sex life!
RECHARGEABLE
Waterproof
Low noise
Discreet Shipping
Cruelty-Free
Paraben-Free
100% Satisfaction Guaranteed
Orgasms help reduce anxiety and stress.
Double Dynamite Vibrator Kit pairs well with ...
---