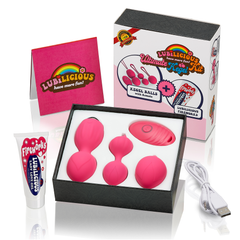 Kegels can improve your ability to reach orgasm.
Hear about Jennifer's experience using our Ultimate Kegel Kit!
20-30% of women say they have never orgasmed during sex.
Let's fix that.
Who says exercising can't be fun?
Three different sizes and weights to play with, and the largest kegel ball vibrates via remote control!
And we paired it with our arousal gel, Fireworks for a little more fun ;)
Fireworks
Peppermint is the main ingredient, giving a tingling and warming sensation to increase sensitivity - plus a great taste and smell!
Just a tiny bit is all you need! It's a water-based gel, so it's an easy clean-up and safe to use with condoms and toys!
Doing Kegel exercises increases blood circulation to the vagina.
RECHARGEABLE
Waterproof
Low noise
Discreet Shipping
Cruelty-Free
Paraben-Free
100% Satisfaction Guaranteed
Kegel exercises can increase your sexual confidence!
The Ultimate Kegel Kit pairs well with ...
---