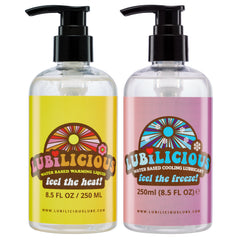 Water-based lubes are the closest to the vagina's natural lubrication.
Why Water-Based Lube?
It's safe for our bodies, smooth and sleek, and is easy to clean up!
Our lubes all come in bottles with easy-to-use leak-free pumps.
Water-based lube is safe to use with latex condoms and silicone sex toys.
Feel the Heat
Feel the Heat, our warming lube, increases blood flow leading to heightened arousal.
It's a simple and easy way to spice up your time in the bedroom!
Feel the Freeze
Our cooling lube, Feel the Freeze, creates tingling and cooling sensations.
It's stimulating, enhances sensations, and increases sensitivity!
Temperature lubes intensify sensations.
Discreet Shipping
Cruelty-Free
Paraben-Free
100% Satisfaction Guaranteed
Using lube makes penetration and thrusting easier.
Feel the Freeze & the Heat pairs well with ...
---