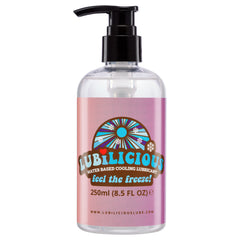 Cooling lube increases sensitivity to the area applied.
Water-based lubricant is safe to use with condoms and silicone toys and cleans up easily.
Feel the Freeze's supplements your body's natural lubrication by matching its' consistency.
Feel The Freeze
Cooling lube is a great beginning to temperature play!
It increases sensitivity to the applied areas.
Tingling and cooling sensations enhance your sexual experience.
Using lube reduces pain and increases pleasure for all involved.
Discreet Shipping
Cruelty-Free
Paraben-Free
100% Satisfaction Guaranteed
Lube leads to better sex.
Feel the Freeze pairs well with ...
---