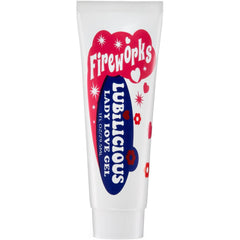 70% of women need clitoral stimulation to have an orgasm.
Our favorite sex toy reviewer, Tawney Seren, raves about her experience with Fireworks!
Kelsea talks all about why she loves our arousal gel!
The clitoris has 8,000 nerve endings.
We want to use all of those nerve endings to their fullest potential.
PeppermintStimulates blood flow to increase chance of orgasm. Smells and tastes minty.
MentholCreates tingling and warming sensation to get sparks flying.
Water-based GelSafe to use with condoms and silicone toys. Easy to clean up and wipe off.
Only 18% of women can orgasm from penetration alone.
Discreet Shipping
Cruelty-Free
Paraben-Free
100% Satisfaction Guaranteed
80% of women have faked an orgasm.
Fireworks pairs well with ...
---