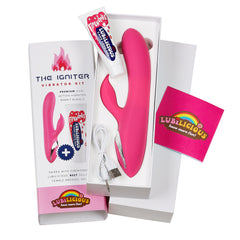 Masturbating releases endorphins leading to reduced stress, better sleep, and increased self-esteem.
Our friend and favorite sex toy reviewer, Tawney Seren, talks about how much she loves The Igniter Vibrator Kit.
Tianna tries out The Igniter Kit and spills all the details!
The most common type of orgasm comes from clitoral stimulation.
Dual stimulation increases your chance for orgasm! Get to know what you like and what you need by trying out the 12 different vibration patterns for both the shaft and the 12 for the rabbit.

The shaft is insertable and flexible to help you reach just the right spot!
The rabbit has a pointed tip for pinpoint precision and its own vibration patterns for stimulating the clitoris.
Vibrators are even more effective when used with lube or gel to reduce friction.
Which is why we paired The Igniter with our best-selling arousal gel...
Fireworks
A water-based gel, so it's safe to use with silicone toys and condoms!
Packed with peppermint, to elicit a tingling sensation and add a little bit of heat ;)
Using a vibrator is linked to better health!
RECHARGEABLE
Waterproof
Low noise
Discreet Shipping
Cruelty-Free
Paraben-Free
100% Satisfaction Guaranteed
1 out of every 6 women has never had an orgasm.
The Igniter Vibrator Kit pairs well with ...
---