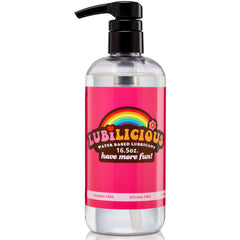 Water-based lubricant is safe for sensitive skin.
Nundi talks about how much she loves The Original.
Many women struggle to reach orgasm.
Lube isn't only for penetrative sex. It can also be used on erogenous zones.
The best value - our largest bottle for your largest fantasies!
An easy, leak-free pump for your convenience.
Why Water-Based Lube?
Water-based lubes are easy to clean up, can easily be reapplied, and have a similar consistency to natural lubrication.
Safe to use with latex condoms and silicone sex toys
It takes longer for women to reach orgasm than men.
Discreet Shipping
Cruelty-Free
Paraben-Free
100% Satisfaction Guaranteed
Using lube decreases the risk of condom breakage.
The Original (16.5 oz) pairs well with ...
---