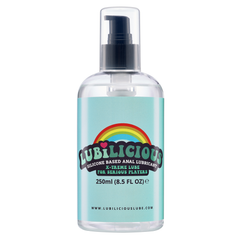 ⅓ of women struggle to produce natural lubrication.
Tawney talks about why she loves our Silicone Based Lube
Silicone-based lubricant is safe to use with condoms.
Silicone-based lube is safe, long lasting, and keeps working for you while having fun in the water.
Our Anal Lube provides the long lasting glide and ease you need to make everything go smoothly and seamlessly.
Silicone-Based lubricants are safe to use with condoms but degrade silicone toys!
Having sex in the evening can make you more engaged in your job the next day.
Discreet Shipping
Cruelty-Free
Paraben-Free
100% Satisfaction Guaranteed
Those who have sex before going to bed have the tendency to sleep better.
Silicone Based Anal Lube pairs well with ...
---