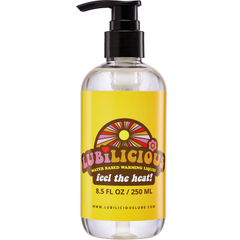 ⅓ of women struggle to produce natural lubrication.
Jessica talks all about why she loves Feel the Heat!
Using lube makes sex last longer.
Why Water-Based Lube?
Our water-based lubricants are easy to clean up and wipe off with just soap and water.
It's safe to use with condoms and silicone sex toys! Using lube can actually decrease the risk of condom breakage.
Water-based lube closely mimics the vagina's natural lubrication. It is also safe for the vagina's natural PH balance.
Feel The Heat
Warming lubricant increases arousal by increasing blood flow.
It helps intensify sensations.
Warming lube is a great introduction to temperature play!
Lube increases the chance of orgasm for both men and women.
Discreet Shipping
Cruelty-Free
Paraben-Free
100% Satisfaction Guaranteed
Using lube can decrease your risk for contracting STI's.
Feel the Heat pairs well with ...
---