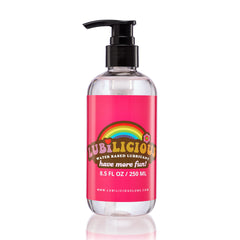 Lube makes it easier to orgasm.
The Original enhances pleasure for everyone by reducing friction and ensuring everything is sleek and sexy.
An easy, leak-free pump for your convenience. No mess!
Why Water-Based Lube?
Water-based lube has a consistency that replicates the vagina's natural lubrication, making it the perfect supplement!
Safe to use with latex condoms and silicone sex toys! Using water-based lube decreases the risk of condom breakage and vaginal tears.
Water-based lube is safe to use with condoms and sex toys.
Discreet Shipping
Cruelty-Free
Paraben-Free
100% Satisfaction Guaranteed
Sex relieves stress.
The Original (8.5 oz) pairs well with ...
---